When I purchased my home, I had to have a water feature. It's just a must for me. Something that brings visual tranquility. For me, and based on my previous home, I knew a swimming pool of crisp rippling hues of blue would do just that. But one problem was: justification. I couldn't justify the expense given I don't really swim, or the affordability in and of itself. I then looked at in-ground hot tubs. But I knew I wouldn't use them much either. I then gave consideration to fish ponds, reflecting ponds, streams, fountain structures and anything else containing water. After perusing the internet extensively, I knew I needed blue water …and a fish pond was born. The biggest part of this project was undoubtedly the hand shoveling, and beyond that, just the research into how to create it.
With fishponds typically being algae scum suckers, research into the

pump and filter was vital. However, it also needed to be a mechanism

that simple-minded me could get my head around, assemble and operate.

I looked at every image and video the internet had to offer. I considered

products meant for pools, hot tubs, interior pumps, exterior pumps,

skimmers, clarifiers, aerators, the gamut! I inevitably purchased the

Laguna PowerClear Multi All-In-One Pump, Filter and UV, and couldn't

have been happier. Ease of use and water clarity are a given with this device.

Its powerful and the UV light wards off algae. Shape of pond was also a

major hurdle. But I learned over several months to just slowly dig until you walk outside one day and say "I like that!" I had dug the substantive portion

of the hole in fall. Then, we started the rainiest season I recall on record.
So, digging ceased until spring. Spring digging was mainly focused on final shaping of the pond. When it came to liners, there appeared to be two primary types suggested for large long-lasting ponds: PVC or EPDM. Where I heard great things about EPDM, my desire for "blue" dictated I use PVC. I did try really hard to envision myself mixing a concrete basin with Pond Armor Pond Paint for my blue hue brew, but that would have resulted in a pond too tiny for me to even see because at age 55, I just didn't have the spark or skill for more. Research also informed me I would need a pond fabric underlayment, and I bought the Firestone pond underlayment as it appeared vitally important to pond liner protection from roots.



Once the underlayment and liner were in, I discovered

from all the rain that the water table in this area of my

backyard was very high. This resulted in liner removal

and digging a trench for drainage. Where there were any

number of ways to do this, I found that digging a slightly

sloping trench straight down the middle of the pond,

and inserting gravel as well as corrugated plastic drainage

pipe worked wonders! This was an unexpected but

necessary component in order to keep the ground water

from pushing the liner up … yep, even with 1,000 gallons

of pond water, Mother Nature can have her way. The pipe runs

underneath and out the end of the pond, keeping the ground water away from the liner.
The liner was placed back in the basin, water was hosed into it, and I found that my leveling of the pond from one end to the other with a string and some sticks wasn't half bad! Rocks, too, were a time consuming part of this project. They are what hold the liner edges down. My biggest hurdle with this was, that in the hundreds of images of ponds I looked at, I arrived at the conclusion that rocks of the same type all placed symmetrically around a pond was not for me. I knew I needed all shapes and sizes and I knew they needed to be random in placement for a more natural setting. What I didn't know is how hard or expensive this part could be. Rocks ain't cheap! So, I waited patiently for the giveaways on Facebook's Marketplace, and I drove a 100 miles to get them if that's what it took. I built the small deck, my first, based on internet images and instructions. It not only gives fish a place to hide from prey, but also gives some hints of mystery to the pond feature in my view. It's also great night-time retreat with a glass of wine.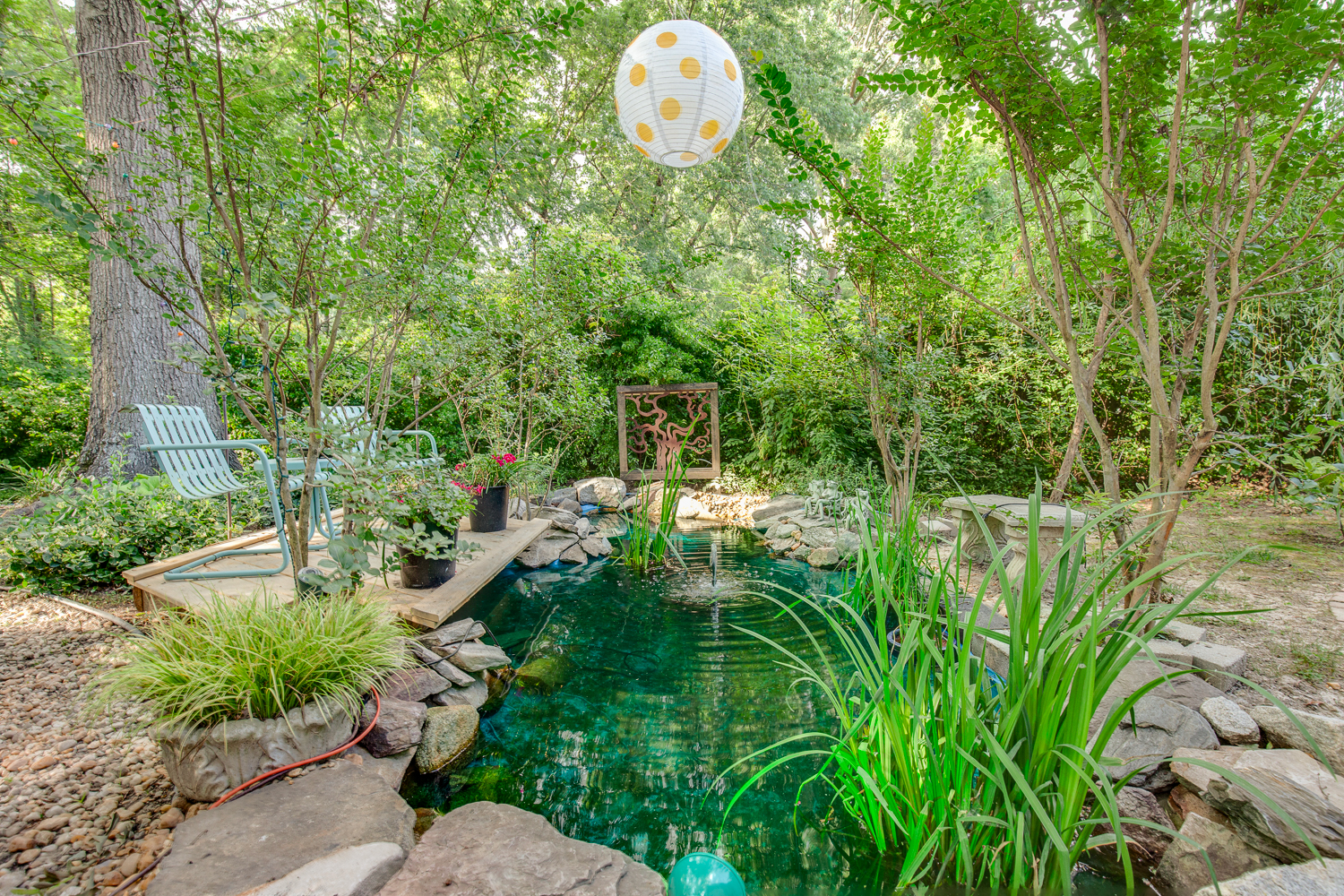 In the end, I found that dirt does get in the pond from the rock installation and that some silt accumulates in particular areas. Nevertheless, it still looks lovely and some rocks in the basin placed randomly about, along with appropriate pond cleaning, keep it blue-thru! Ask me if this is the case in a year. I'd like to be able to tell you. But personal circumstances caused me to sell my home just upon pond completion…and now I own a condo … with no yard!