The benefits of being a homeowner are endless: equity, privacy, tax benefits, etc. However, the best benefit in my opinion is that you get to make your house your home. Therefore, every homeowner should have an "escape" in their house, a place that makes them instantly feel serenity, comfort, and joy. I'm going to tell you exactly how I created my oasis: my master bedroom.

Master Bedroom Before: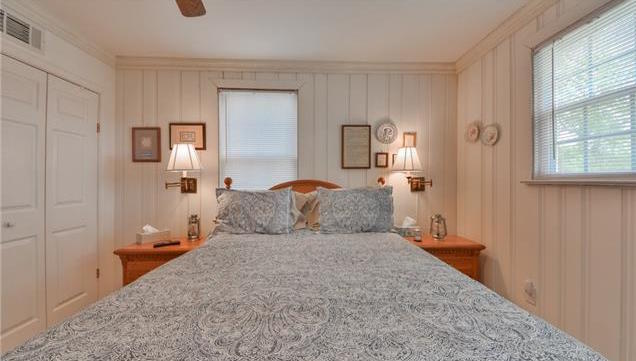 Master Bedroom After: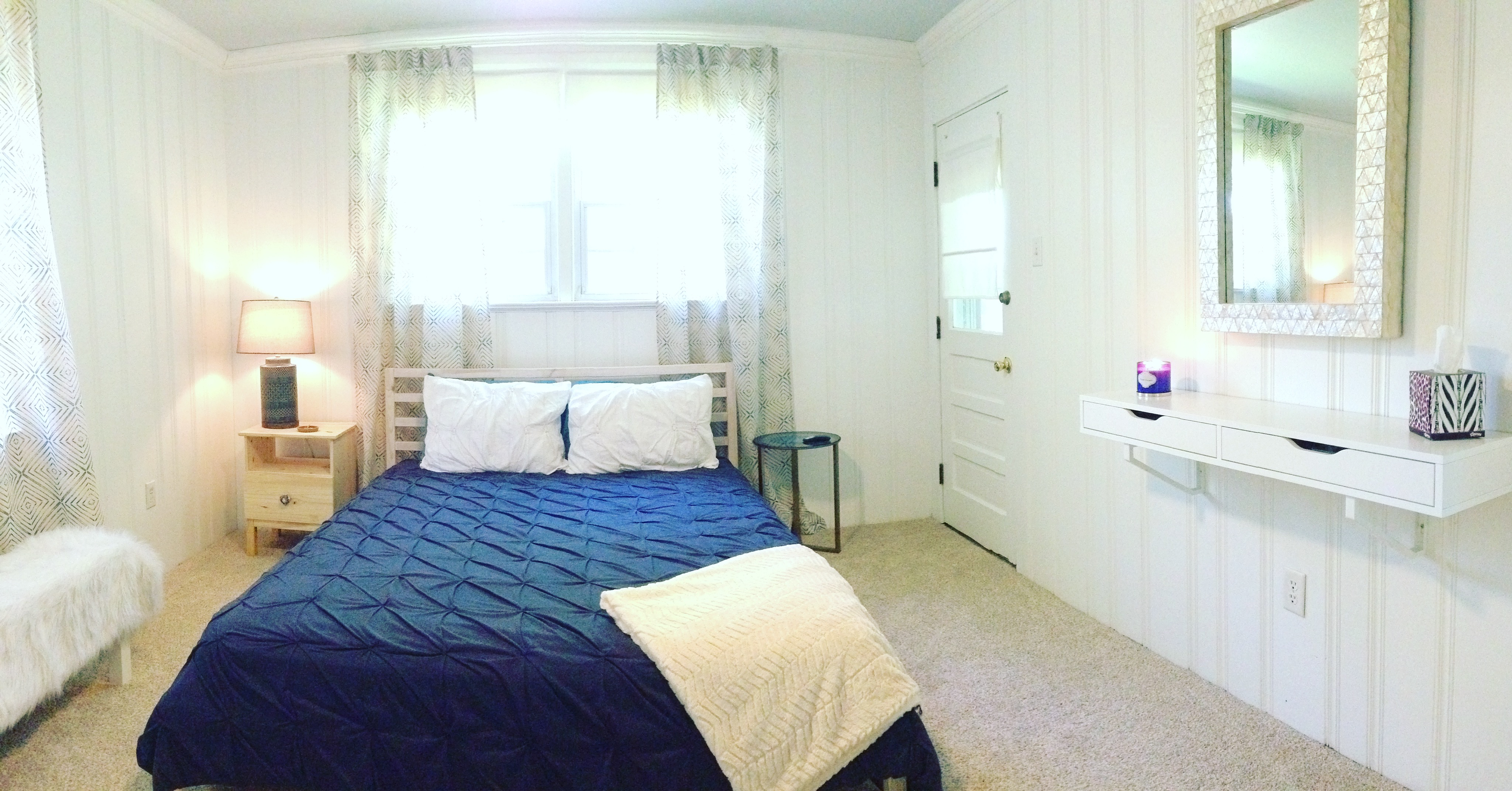 To some designers, this may seem like the easy way out. Where do you feel most at peace? Well, my answer is anywhere land meets water, aka the beach! (Sooo original, right?!) Therefore, my bedroom is definitely inspired by a bohemian, beach aesthetic.

WALLS: Most people would turn their nose up at wood paneling, but I was thrilled about the existing wall texture! Even better, the previous homeowners had already painted it white. All I had to do was go back over it with the shade of white paint that I had chosen for the room… Trust me, not all white paints are equal! I chose a bright, pure white in an eggshell finish. I'm probably making a few other designers out there cringe. They're thinking, "You chose eggshell for wood paneling?!" The standard choice is typically something glossy or lacquered. However, I knew I didn't want my walls to be shiny with the beach look that I was aiming for, so eggshell was definitely the right choice for me. The wood paneling has just enough texture to add a bit of interest to this white room.

Side Note: I did paint my ceiling light blue for a bit of color. Here's a tip if you're thinking of painting your ceiling: DON'T! It's such a pain, but if you're committed to the idea and don't want to take my first piece of advice, please take my second piece: Make sure to test the paint out in a small patch first. You'll probably need to go about ten shades lighter than your instinct is telling you because color on the ceiling instantly looks much darker.

FLOOR: Let me just say that I am not a fan of wall-to-wall carpet. However, there are many reasons I knew carpet would be the best decision for me.
1) Money: Nothing is cheaper than wall-to-wall carpet. I had just made the most expensive purchase of my life, so cash was tight.
2) Durability: The right carpet can stand up to a lot of abuse. Theoretically, you spend the least number of years in your first home, and I didn't want to replace the flooring again when it comes time to sell this baby!
4) Existing conditions: Sadly, my home did not have its original wood floors in place, so I had to put something down after ripping up the old carpet.
My carpet came from a neighborhood flooring business that sells remnants, Carpet Cuts. A remnant is the carpet leftover at the end of a roll that's too small for most installations but too large to throw away, so many of them are discounted in order to sell them quickly. I just had to find the right piece for my space based on size, color, and style. Frieze carpet (pronounced frizz-ay) is a shorter-haired relative of shag. I did not want shag carpet, but I did want something that my dog couldn't destroy in a matter of months. Animal paws can easily damage anything with a loop pile! Also, it's soft under my feet making it perfect for a bedroom. For the color, I knew I wanted something neutral with subtle variation in the threads. The remnant I found was the perfect combination of a sandy tan and off-white, which screamed beach-y without being tacky.

FURNITURE: You might able to tell that almost my entire bedroom is from IKEA. If you don't have tons of money to spend and you're willing to get creative, IKEA is your best friend! You might have to put in a little extra work, but the furniture is so cheap that you won't be afraid to try out a DIY project for that extra special customization. My bed frame came standard in an unfinished wood, so after assembly, one coat of Minwax White Wash Pickling Stain lightened the color while still maintaining the wood grain pattern. The bedside table came with a matching wooden knob, BORING, but a gorgeous, agate knob from Anthropologie was the perfect upgrade. Finally, I needed a vanity. I'm weird though – for some reason I can't sit down while I'm getting ready in the morning or putting on makeup. Therefore, I created a standing-height vanity with a simple IKEA-hack. Customization, people! Are you seeing the theme here? It's all about customizing your oasis to work perfectly for YOU. A wall-mounted shelf with two shallow drawers is a great storage solution for my hair and makeup products. Simple and understated, it makes the perfect spot for me to get ready in the mornings.

DÉCOR: Accessories can make or break your space. They add the final touches of personalization and context. I tend to take a minimal approach with accessories. It allows me to spend a little more money to get exactly what I want, while also keeping me from going overboard and filling the space with unnecessary junk. The mirror was a steal from the clearance section at West Elm. I purchased my curtains using a gift card at World Market, and I found my lamp highly discounted on an aisle end-cap at Target. Two of my splurges were more knobs from Anthropologie for the closet doors and a natural woven hamper from Ten Thousand Villages in Carytown.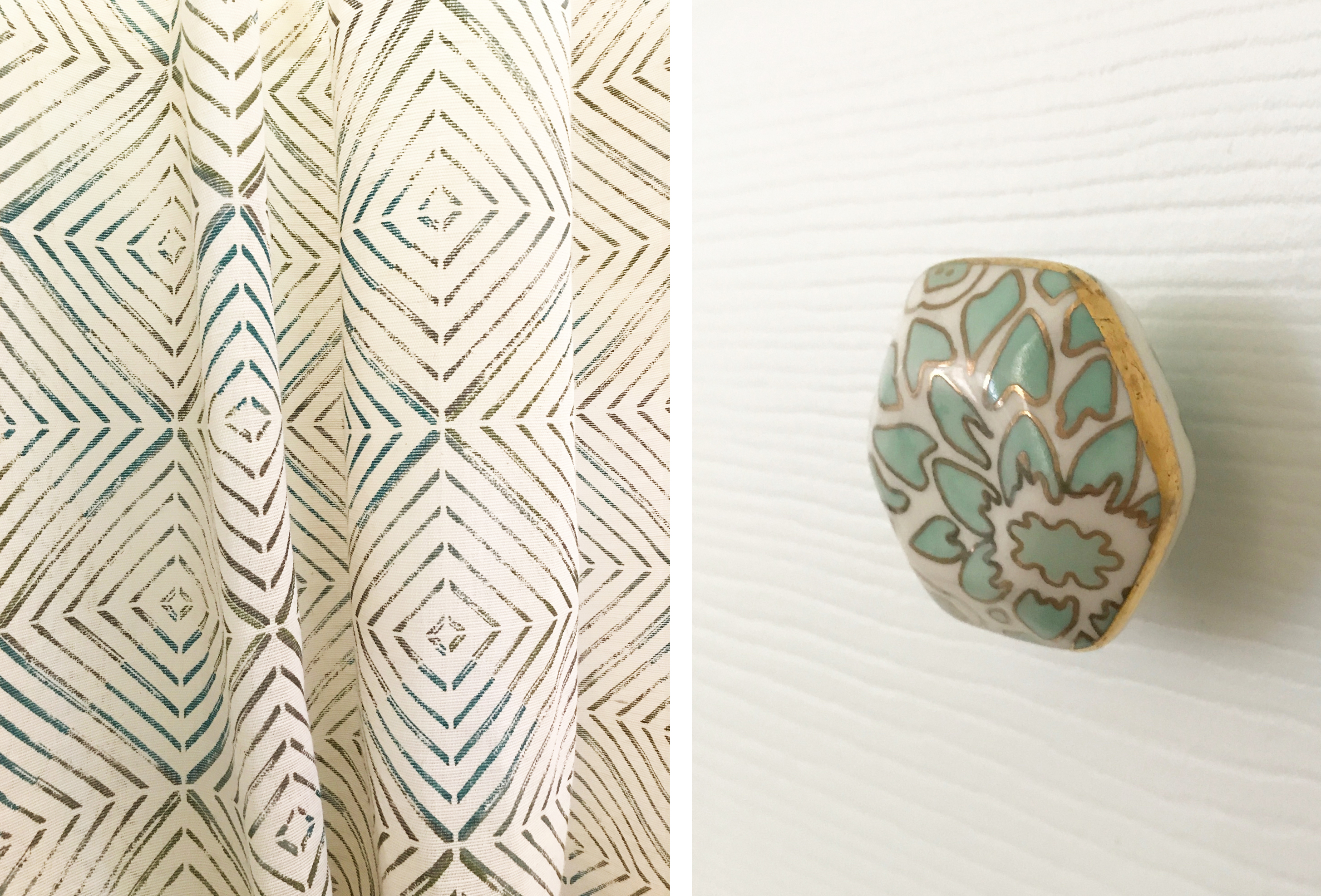 Bright, sunny space and a mostly neutral color palette pull off this serene, beach-inspired look. However, if you don't feel the most peace at the beach, it's probably not the right look for your oasis! We can work together to find out how to create your own oasis within your home.